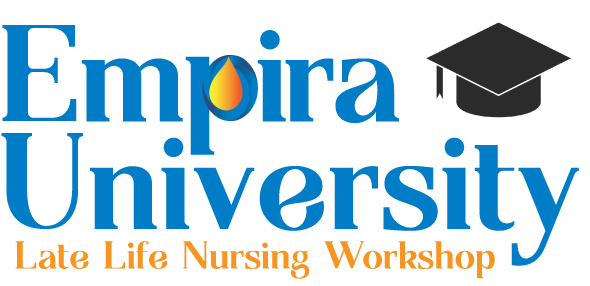 The Art & Science of Late Life Nursing
This live and interactive course is available via Zoom to allow for participant interaction. To avoid a whole day sitting in front of a computer, this will be a two part course.
This course focuses on late life needs for the mind, body and spirit while encouraging and reframing realistic hope, symptom management, treatment efficacy, family support, issues in late life care, holding difficult conversations, empathy and self-care.
7 CEUs*
Part 1/Day1: The Science of Late Life Nursing 3.5 CEUs
Part 2/Day 2: The Art of Late Life Nursing 3.5 CEUs
$119.00 On sale for $89.00
Special pricing of $39.00 for Empira consortium members (PHS, VOA, Cassia, St. Therese)
Payment is not required at time of registration, we will contact you about payment once we receive your registration.
Intended Audience:
Licensed Nurses
*This educational event has been designed to meet the MN Board of Nursing CEU requirements. It is responsibility of each attendee to identify the educational necessity and to determine if it meets the guidelines of their professional organization and/or corporation.
Course evlaution click here